YES! We take (and love) custom orders!!
There's nothing like having a pretty pot to remind you of the friend you can talk with for hours, the sister who put you back together after a break-up or the teacher who changed your life. Whether it's song lyrics, an inside joke or a simple "I love you" we're delighted to work with our customers to make their special message absolutely perfect. Message us your thoughts and we'll work with you to bring them to life.
Pictured are pots we made for Willy's family. Willy was a golden retriever who loved to dig. After months of (unsuccessfully) trying to get him to stop his family noticed something new; tiny tomato plants sprouting all over Willy's backyard. His family nurtured the tomato plants as they proved to grow fat, tasty tomatoes. Willy has since passed, but his plants still thrive. His family has gifted our pots with -of course- Willy's tomato seedlings planted inside. We are so proud to a part of Willy and his family's unexpected journey.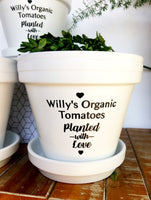 Weddings

Great for Wedding Gifts, Favors, Table Decor, Unity Ceremonies, Bridesmaids & In-Law Gifts
Realtor Gifts

Thank Your Clients & Market Your Brand with a Personalized Pot
Teacher Gifts

Personalized with Your Student's or Favorite Teacher's Name
Corporate Gifts

Featuring Your Company Logo
Weddings
Great for Wedding Gifts, Favors, Table Decor, Unity Ceremonies, Bridesmaids & In-Law Gifts
Realtor Gifts
Thank Your Clients & Market Your Brand with a Personalized Pot
Teacher Gifts
Personalized with Your Student's or Favorite Teacher's Name
Corporate Gifts
Featuring Your Company Logo